Should Landlords Receive Rent Online with Credit Cards?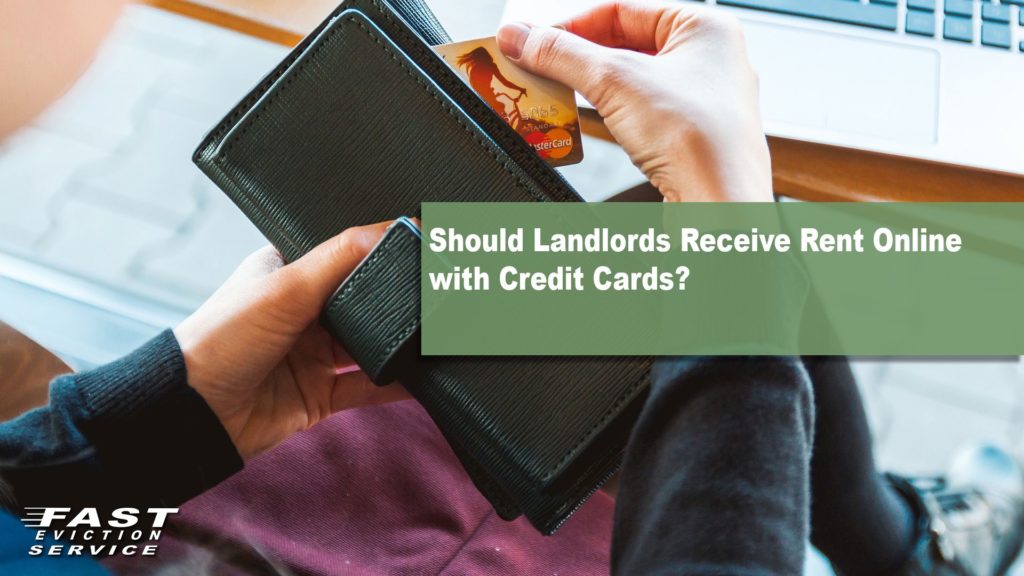 People pay with most things these days with credit cards, so why not pay rent this way too?
The primary reasons people want to pay rent with a credit card is to get bonus cash back points. This is particularly true with new credit cards that have big sign-up bonuses if certain levels are met within a specific time frame. Most people's biggest expense is paying rent and so they can rack up those balances quickly for a big reward.
The Costs to Landlords are Free
For landlords there are several advantages to accepting credit card payment for rent. These include taking the human element and human caused errors out of the transaction that takes time connecting with tenants, the landlord knows much faster the payment is good and won't bounce like a check because it usually takes a shorter time to clear than physical checks.
It provides the landlord with electronic notification of payment which makes it very easy to stay current. This is far simpler than the time involved with tenants physically handing over checks the old fashion way which requires much more time and attention. Even the best tenants have unintended mishaps that can keep a physical check from being handed over or deposited.
By using services like Cozy that set up rent payment schedules and collect late rent fees automatically, it can save a landlord a lot of time. With automated rent collection, the transfer just happens without anyone having to think about it.
Best of all for landlords, the cost to receive rent via credit card payment is free with most of the popular Automatic Clearing Houses or ACH services. At tax time you can print out your automatic payment records making everything simple and clear.
Tenants Pay for the Service
Whether or not this is a good choice for tenants over the long haul though is realizing there are no publicly available, free way to pay your rent or mortgage with a credit card.
How much it costs the tenant can depend upon which service they use. The most popular rent payment services a percentage rate is charged varying on average between 2.5 to 3%. To someone trying to get back a cash back percentage on their credit card, the service fee pretty much eats that up. However, it the tenant is getting 5% back, or is getting a big signup bonus, then it would make sense.
There are a number of other conveniences for the tenant paying by credit card beyond a cash back incentive though. Not having enough available cash at a certain point of the month to pay rent with a check is one, and avoiding late rent fees which can usually be 5% or more is another. The costs of avoiding a late rent fee can more than offset the costs of the processing fee at 2.5 – 3% as well as help maintain the good will of the landlord.
The least expensive and most common Automatic Clearing House or ACH is Plastiq which has a 2.5% fee for the tenant. The landlord doesn't need to have an account and gets paid by check, wire transfer, or ACH transfer.
Cozy charges a 2.75% processing and offers a wide range of services including automatic payment schedules, late rent payment fees, and gives the landlord an email saying everything is OK or if there is a problem.
Other ACH services that charge a 2.99% fee include:
And one that charges 3%
Study each of these site's fees and the cards that are eligible for use as some of them have different processing fee charges for debit cards that are lower than for credit cards.
Paying Rent with Credit Cards are Only a Plus for Landlords
Remember, it can often take five to ten days to find out a physical check has bounced. While there are a number of regulations regarding ACH that can take a few days to complete the transaction, they are usually much faster than dealing with a physical check. This lets the landlord know relatively quickly everything is good to go or you need to give the tenant a call to make something happen.
In all these ways, tenant paying rent with credit cards is a plus for landlords. Whether or not it works over the long haul for tenants who have to pay the processing fees depends upon each individual tenant's motivation, how much cash back they receive on their card, and if they are using it to rack up new card sign-up bonuses which can be lucrative for them.