How Long Does it Take to Evict Someone in California?
Updated 9/4/20
Why does it take so long to evict someone in California? Having to evict someone is a tough decision to make for any landlord. The California eviction process can be long, frustrating and expensive. Landlords often feel like they get the short end of the stick. So, how long does it take to evict someone in California?
---
---
Short answer: It can take anywhere between 45 to 75 days to evict someone in California, on average. Here's why.
There are many factors to consider. Some important factors include location of your property, which type of notice was served to the tenant, the court's workload and circumstances surrounding the eviction situation. We're going to briefly go over the eviction process and explain what each step entails and what can go wrong. Understanding each step of the eviction process is very important so that you avoid making costly and lengthy mistakes.
It all starts with serving a notice
The time frame of an eviction starts and depends a lot on which type of notice you serve your tenant. Some popular notices include
Important: As of 9/1/19 weekends and judicial holidays are no longer counted in 3 day notices and unlawful detainer response time frame.
The next step is to serve your tenant the notice after determining the correct one to use. Don't forget to fill out your declaration of proof of service! There are three ways you can serve your tenant.
Personal Service

Physically handing the notice to your tenant face to face. You should diligently try and use this type of service whenever possible.

Substitute Service

Delivering the notice to an adult not listed on the ease at the place of residence. This method is acceptable; just make sure you hand it over to an adult.

Posting and Mailing

If you're having a hard time serving your tenant using the first two methods, you can post the notice on the front door after due diligence and mailing a copy by mail.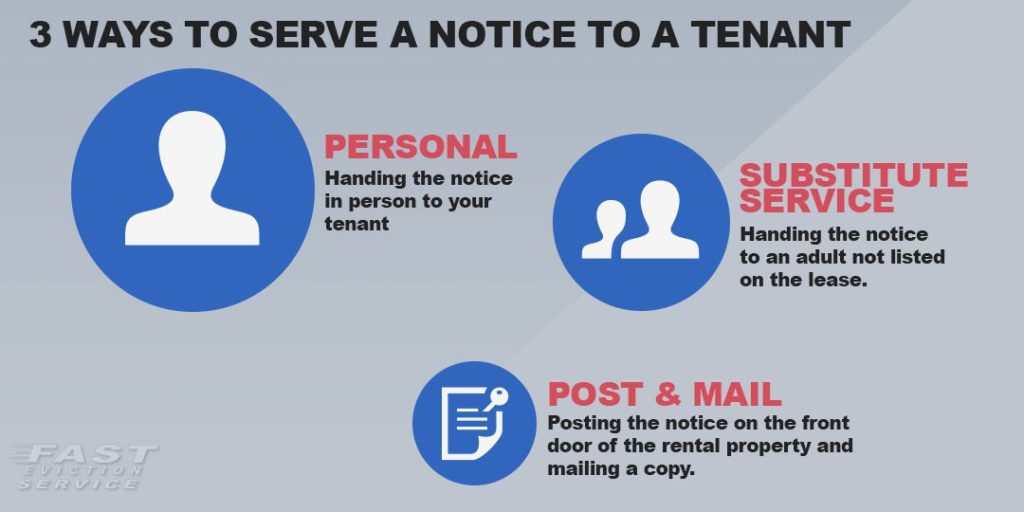 What can go wrong
You can accidentally serve the tenant the wrong notice or serve a notice that will not hold up in a court of law
Illegally serving the tenant or even worse, threatening your tenant
Making mistakes on your notice
Time frame: 3 to 90 days.
---
Time to file
Once the time frame of the notice has expired, you can file an Unlawful Detainer in court. An Unlawful Detainer is a lawsuit stating your tenant in illegal possession of your property. A copy of this lawsuit is then served to your tenant.
If the Unlawful Detainer is personally served, the tenant has 5 calendar days to contest the case. Contesting means they are willing to go to court and fight their case. If the lawsuit was sub-served, the tenant has 15 calendar days to respond. If you cannot serve your tenant on 3 separate attempts, then an order to post must be obtained by the courts. You can then post a copy of the lawsuit on their front door and mail copy via certified mail. The tenant has 15 calendar days to respond.
What can go wrong
Not knowing when your notice expired
Illegally serving your tenant
Making mistakes on legal documents
Time frame: 5 to 15 calendar days.
---
Court or Default Judgment
If the tenant contests
Contesting the lawsuit adds substantial time to your case. Many tenants and tenant advocate groups contest their case just to try to buy time or leverage cash for keys situations.
Contested evictions are very inconvenient because you have to schedule a court date that can be anywhere between 10 – 30 days from the time you request. As if that's not enough, you often times have to have your hearing at different courts due to budget cuts and court backups.
Time Frame: 10 to 30 days.
If your lawsuit is uncontested
If your tenant (defendant) does not file a response to the lawsuit, a Request for Entry of Default/Default Judgment will be filed and the court clerk will process that Request as soon as the court's work load allows.
Time Frame: 3 to 10 days.
What can go wrong
Not knowing court procedures
Tenant advocate groups taking advantage of you
Not having proper evidence to prove your case
Making mistakes on court documents
Not understanding eviction procedure and waste time filing for default judgment
---
Writ of Possession
After you (landlord/plaintiff) win your case, you will receive a signed Judgment which is required to file for the Writ of Possession. A writ of possession is a document issued by the court that gives the sheriff permission to forcibly remove the tenant from your property if they don't abide by the time frame given to vacate.
Once the writ is issued, it is then handed to the sheriff's department to follow their procedure of serving the notice to the tenant. If the tenant still refuses to peacefully move out, then the sheriff will forcibly remove the tenant.
Time Frame: 5 -25 days.
What can go wrong
Not knowing the eviction procedure
Wasting time by not knowing when to file
Making mistakes on court documents
How long does it take to evict someone in California?
If you're following along doing the math, you can see that it could take between 21 and 100 days plus! The average, however, is 45 days for uncontested and 60-75 days when contested.
---
Delay tactics used by tenants
If you're still reading along with me up to this point, you can easily see why the question "How long does it take to evict someone in California" is asked so much by landlords.
California landlord/tenant laws heavily favor the tenants. There are tactics and tricks tenants and tenant advocate groups will deploy to make evictions even longer. Some tactics include filing demurrers, motions to strike and other motions in court to cause delays. Filing for bankruptcy protections is another tactic heavily used by tenants trying to gain leverage.
Biggest delays in eviction proceedings
The biggest delays caused in eviction proceedings are not tenants or their advocates, but hiring inexperienced lawyers or trying to evict on your own. Fast Eviction Service has been on your side of the court room for over 40 years. We have plenty of experience in unlawful detainers and help you from the very beginning by serving your tenant a notice, usually the same day.
How long does it take to evict someone in California is something Fast Evict asks themselves on a daily basis and work hard to get through the process as fast as possible for our clients.
If you have any questions about this or any other eviction matter, please call us at 1-800-686-8686 or email us at intake@fastevict.com.
Have you ever experienced a frustrating eviction? Tell us about it on Twitter.
Watch a video
Watch Video
At Fast Eviction Service, help on any of the issues discussed in this article is simply a click or phone call away. Email intake@fastevict.com or call our office at (800) 686-8686 to discuss your questions for a free evaluation of your case.
Common Eviction Mistakes That Landlords Must Avoid
Eviction is the only legal procedure to regain possession of your rental property from a tenant. Landlords must understand that each state has its own specific set of rules for tenant eviction. Any failure abiding by these rules on the landlord's part can result in legal problems and delays resulting in the entire eviction process being thrown out of court and requiring it to be restarted afresh - costing you more lost time and money. Read More...
The Evicted Tenant's Game Plan - Delay, Delay, Delay!
The California Legislature has provided an inexpensive and expeditious legal way for a landlord to regain possession of the rental property when the tenant refuses to honor the rental agreement. This rather simple statement of law over the years has become diluted by the delay tactics employed by tenants who want to contest the proceeding and stay in the rental property as long as possibly without paying rent. Read More...