California Assembly Bill 1482 FAQs
What is AB 1482?
Click here for information on terminating tenancy under tenant not allowing entry or signing new lease.
AB 1482 is a California state-wide rent control bill that was signed by Governor Newsome on October 8th, 2019. It will take effect as of January 1, 2020 but covers any rent increases made as of March 15, 2019. This bill caps annual rent increases at 5% plus Consumer Price Index
(CPI) and requires landlords to evict tenants only under "just cause" situations.
For the most up to date information on rent increases and AB 1482, please click here.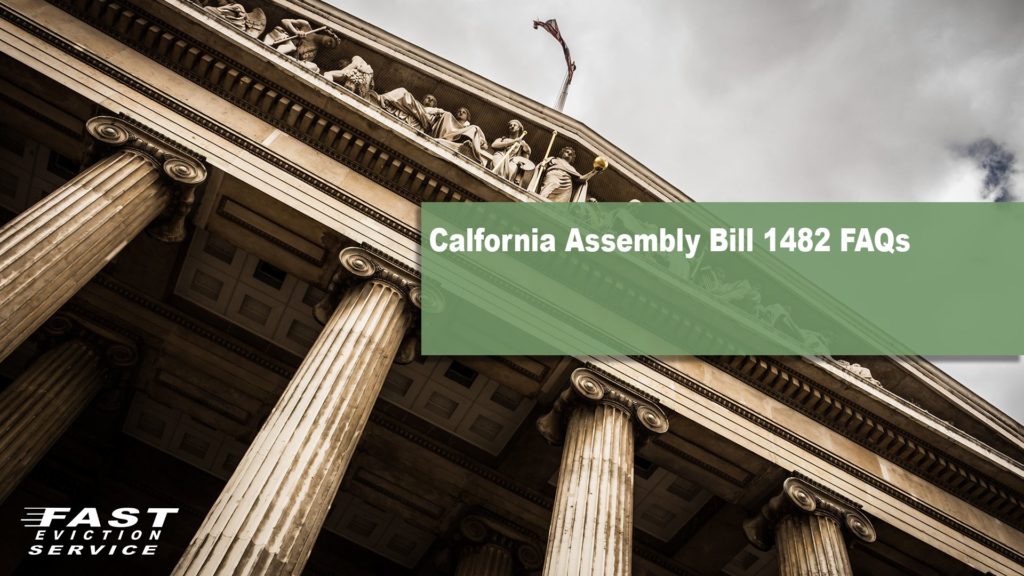 Does AB 1482 affect my rental unit?
AB 1482 applies to most rental units in California except if:
the city where your property is located has existing rent control or "just cause" ordinances. If this is your case, please call us. AB 1482 may modify these provisions.
your building was constructed within the last 15 years. If you're not sure, check when your certificate of occupancy was issued.
the unit is an owner occupied duplex.
the unit falls under deed restricted affordable housing.
the unit is a single family home with the exception of the unit being owned by corporations or LLCs with at least one corporate member.
When will this bill take effect?
January 1st, 2020. Landlords are required to review and adjust rent increases made as of March 15, 2019, however. If your rent increases were MORE than what the bill allows, an adjustment needs to be made to the amount of rent was on March 15, 2019 PLUS CPI PLUS 5%. If your rent increase was LESS for what the bill allows, a landlord is allowed to increase rent twice within a 12 month period as of March 15, 2019, but no more than what the bill allows, which is 5% PLUS CPI.
Notice of Exemption
Properties that are exempt from AB 1482 must provide a written notice to their tenants before July 31st, 2020. All tenancies that begin on or after July 1st, 2020 must include the notice in the lease. The notice must read as follows:
"This property is not subject to the rent limits imposed by Section 1947.12 of the Civil Code and is not subject to the just-cause requirements of Section 1946.2 of the Civil Code. This property meets the requirements of Sections 1947.12 (d) (5) and 1946.2 (e)(8) of the Civil Code and the owner is not any of the following: (1) a real estate investment trust, as defined by Section 856 of the Internal Revenue Code; (2) a corporation; or (3) a limited liability company in which at least one member is a corporation."
If you failed to provide this notice to your tenant and want to serve a 30 or 60 day notice at any point after August 1st 2020, you may be subject to providing relocation assistance to your tenant.
Rent Increases
How much can I increase rent as of January 1, 2020?
This bill will cap, or put a max limit for annual rent increases at 5% PLUS the annual difference in cost of living which is measured by the CPI, or Consumer Price Index of where the rental unit is located.
New! Use our CPI Rent Increase Calculator to verify your annual rent increases.
How many times can I raise rent per year?
Landlords cannot increase rent more than two times a year when tenants have resided at the property for 12 months continuously.
What if my rental unit is empty?
This bill only affects units that are occupied. If your rental unit is vacant, you can adjust rent to market rent prices.
Is my property exempt from AB 1482 if it is a single family dwelling?
If your property is not currently under any type of local rent control ordinance AND if the property is NOT owned by an LLC or corporation as defined by law, then in most cases your property is exempt from AB 1482. It is advisable that you give us a call to make sure!
Do I have to inform the tenant if my property is exempt from AB 1482?
Yes. Any lease signed on or after July 1st, 2020 must inform the tenant if your property is exempt from AB 1482 and the reason. Any leases signed before July 1st, 2020 does not obligate the landlord to inform the tenant, but it is optional. Please call us for more information.
Do I have to do anything if the rent was increased after March 1st, 2019 but under the allowable rent increase amount?
If you increased rent after March 1st, 2019 and are still under AB 1482 set limits, you are allowed to increase a maximum of 1 more time (making it 2 increases in a 12 month period within March 15, 2019) to "catch up". Keep in mind, if you are currently in a fixed term lease, you cannot increase rent until the lease has expired. You can also stay at your current rental rate safely if you wish.

Just Cause
What is a "Just Cause" eviction?
The bill states that a landlord cannot evict a tenant for any reason where the tenant isn't at fault. A "just cause" includes failure to pay rent, violation of terms in a lease agreement, owner or family plans to live at the rental, if owner intends to permanently remove rental from the market, if they owner plans to heavily remodel the rental, or if they are ordered to vacate the property by a government agency or court.
Are all tenants protected by "just cause" provisions under AB 1482?
No. Only tenants that have continuously resided at the rental for 12 or 24 months are protected by AB 1482 "just cause" provisions. Keep in mind, this includes any tenants that will have met this criteria as of January 1, 2020.

12 month "just cause" protections kick in when there are no changes to the number of tenants residing at the property and continue with no changes up to month 24. No matter if the lease is fixed or month to month, on day 366, these tenants are protected. 24 month "just cause" protections kick in if there were any changes to occupants residing at the property within 24 months. Here is an example:
Bob Tenant moves in and enjoys his rental unit for 11 months. On month 12, he adds a roommate to his lease, say Suzy Tenant. Bob and Suzy will not be eligible for protection until month 24. In such case where Suzy moves out on month 16, Bob will still be eligible for AB 1482 "just cause" protection on month 24, regardless of Suzy moving out and Tim Tenant moving in on month 20. Tim will enjoy this protection after just 4 months of residing in the rental.
If my lease specifies that the lease will not automatically renew after the set term (One year lease) do I have to renew their lease?
This depends on how your lease is written. If your lease says that the fixed term (let's say 1 year, or 12 months) expires WITHOUT automatically rolling over to a month-to-month lease, you do not have to renew the lease and the tenant will not be protected by AB 1482 "just cause" ordinance. If your lease rolls over automatically to a month-to-month, on day 366, the tenant will be protected under AB 1482 and can only then be removed under "just-cause" situations. The latter situation requires the landlord to take timely action if they do not wish to renew the tenant's lease.
What reasons can I use for terminating a tenancy that is not exempt?
Remember that tenants are only protected by "just cause" ordinance if they meet the time requirements specified.
Examples of "Tenant At-Fault Just Causes"
Non payment of rent.
Failure to comply with your lease terms.
Creating or being the cause of a nuisance as defined by law.
Criminal activity performed on the rental property by the tenant.
Refusing to execute a new lease after a written lease has terminated on or after January 1st, 2020.
Not permitting the landlord to enter dwelling after proper serving of 24 hour notice.
Managers refusing to leave premises after termination.
Examples of "No-Fault Just Causes"
The owner, the owner's spouse, domestic partner, children, grandchildren, parents or grandparents intend to occupy the rental unit.
If the owner decides to remove the rental unit from the market.
If the owner plans on substantially remodeling the rental unit or demolishing it.
If the unit is to be vacated by court or government agency order.
Examples where "Just Cause" does not apply
Selling of the rental property.
Moving a resident manager into the unit.
If you have additional questions that were not covered here, please contact us! We are here to help! 1-800-686-8686
Relocation Assistance/Rent Waivers
When am I required to provide relocation assistance to the tenant?
A landlord is required to provide either relocation assistance or rent waiver when the tenancy terminates based on a no-fault just cause. The landlord can decide witch of the two to provide the tenant.
How much do I have to pay for relocation assistance?
The relocation fee or rent waiver amount must be equal to one month's rent. If the fee is to be paid to the tenant, it must be done within 15 calendar days of the service of notice of termination of tenancy. If it is to be done via rent waiver, a written waiver of the payment of the last month's rent must be provided to the tenant before the rent due date.
What if I refuse to pay relocation assistance?
The notice of termination of tenancy issued to the tenant is void.
Is my city controlled under AB 1482?
We have listed most of California cities below and have included links to their respective ordinance. Some cities will have their own page with further details on their ordinance.
| | |
| --- | --- |
| City | Ordinance |
| Adelanto | |
| Agoura Hills | |
| Alameda | |
| Alamo | |
| Albany | |
| Alhambra | |
| Aliso Viejo | |
| Alpine | |
| Alta Sierra | |
| Altadena | |
| Alturas | |
| American Canyon | |
| Anaheim | AB 1482 |
| Anderson | |
| Antelope | |
| Antioch | |
| Apple Valley | |
| Aptos | |
| Arcadia | |
| Arcata | |
| Arden-Arcade | |
| Arnold | |
| Arroyo Grande | |
| Artesia | |
| Atascadero | |
| Atwater | |
| Auberry | |
| Auburn | |
| Avalon | |
| Avila Beach | |
| Avocado Heights | |
| Azusa | |
| Bakersfield | AB 1482 |
| Baldwin Park | |
| Banning | |
| Barstow | |
| Baywood-Los Osos | |
| Beaumont | |
| Bell | |
| Bell Gardens | |
| Bella Vista | |
| Bellflower | |
| Belmont | |
| Benicia | |
| Berkeley | |
| Beverly Hills | |
| Big Bear | |
| Big Bear Lake | |
| Bishop | |
| Blackhawk | |
| Bloomington | |
| Blythe | |
| Bonsall | |
| Boonville | |
| Boron | |
| Boulder Creek | |
| Boyes Hot Springs | |
| Brawley | |
| Brea | |
| Brentwood | |
| Buellton | |
| Buena Park | |
| Burbank | |
| Burlingame | |
| Calabasas | |
| Calexico | |
| California City | |
| Calimesa | |
| Calistoga | |
| Camarillo | |
| Cameron Park | |
| Camino | |
| Campbell | |
| Canyon Lake | |
| Capitola | |
| Carlsbad | |
| Carmel-by-the-Sea | |
| Carmichael | |
| Carpinteria | |
| Carson | |
| Castaic | |
| Castro Valley | |
| Cathedral City | |
| Ceres | |
| Cerritos | |
| Challenge-Brownsville | |
| Chicago Park | |
| Chico | |
| Chino | |
| Chino Hills | |
| Chowchilla | |
| Chula Vista | |
| Citrus Heights | |
| City of Industry | |
| Claremont | |
| Clayton | |
| Clearlake | |
| Cloverdale | |
| Clovis | |
| Coachella | |
| Coalinga | |
| Colton | |
| Commerce | |
| Compton | |
| Concord | |
| Copperopolis | |
| Corning | |
| Corona | |
| Coronado | |
| Corte Madera | |
| Costa Mesa | |
| Cotati | |
| Coto de Caza | |
| Covina | |
| Crescent City | |
| Crestline | |
| Culver City | |
| Cupertino | |
| Cypress | |
| Daly City | |
| Dana Point | |
| Danville | |
| Davis | |
| Delano | |
| Delhi | |
| Desert Hot Springs | |
| Diamond Bar | |
| Diamond Springs | |
| Dinuba | |
| Dixon | |
| Downey | |
| Duarte | |
| Dublin | |
| East Los Angeles | |
| East Palo Alto | |
| Eastvale | |
| El Cajon | |
| El Centro | |
| El Cerrito | |
| El Dorado Hills | |
| El Monte | |
| El Segundo | |
| Elk Grove | |
| Emeryville | |
| Encinitas | |
| Escalon | |
| Escondido | |
| Eureka | |
| Exeter | |
| Fair Oaks | |
| Fairfield | |
| Fall River Mills | |
| Fallbrook | |
| Florence-Graham | |
| Florin | |
| Folsom | |
| Fontana | |
| Foothill Farms | |
| Fort Bragg | |
| Fortuna | |
| Foster City | |
| Fountain Valley | |
| Fowler | |
| Fremont | |
| Fresno | Rental Housing Improvement Act |
| Fullerton | |
| Galt | |
| Garden Grove | |
| Gardena | |
| Georgetown | |
| Gilroy | |
| Glendale | Right-to-Lease' Ordinance |
| Glendora | |
| Gold River | |
| Goleta | |
| Granite Bay | |
| Grass Valley | |
| Greenfield | |
| Groveland | |
| Grover Beach | |
| Hacienda Heights | |
| Half Moon Bay | |
| Hanford | |
| Happy Valley | |
| Hawthorne | |
| Hayward | |
| Healdsburg | |
| Helendale | |
| Hemet | |
| Hercules | |
| Hermosa Beach | |
| Hesperia | |
| Hidden Meadows | |
| Highland | |
| Hollister | |
| Huntington Beach | AB 1482 |
| Huntington Park | |
| Idyllwild-Pine Cove | |
| Imperial Beach | |
| Indio | |
| Inglewood | |
| Irvine | AB 1482 |
| Irwindale | |
| Isla Vista | |
| Jackson | |
| Joshua Tree | |
| Kerman | |
| Kernville | |
| King City | |
| Kingsburg | |
| La Canada Flintridge | |
| La Crescenta-Montrose | |
| La Habra | |
| La Mesa | |
| La Mirada | |
| La Puente | |
| La Quinta | |
| La Riviera | |
| La Verne | |
| Ladera Ranch | |
| Lafayette | |
| Laguna Beach | |
| Laguna Hills | |
| Laguna Niguel | |
| Laguna Woods | |
| Lake Arrowhead | |
| Lake Elsinore | |
| Lake Forest | |
| Lake Isabella | |
| Lake of the Pines | |
| Lakeport | |
| Lakeside | |
| Lakewood | |
| Lancaster | |
| Larkspur | |
| Lathrop | |
| Lawndale | |
| Lemoore | |
| Lincoln | |
| Linda | |
| Lindsay | |
| Livermore | |
| Livingston | |
| Lodi | |
| Loma Linda | |
| Lomita | |
| Lompoc | |
| Long Beach | Relocation Assistance Ordinance |
| Loomis | |
| Los Alamitos | |
| Los Altos | |
| Los Angeles | LA Rent Control Ordinance |
| Los Banos | |
| Los Gatos | |
| Lucerne Valley | |
| Lynwood | |
| Madera | |
| Malibu | |
| Mammoth Lakes | |
| Manhattan Beach | |
| Manteca | |
| Marina | |
| Marina del Rey | |
| Mariposa | |
| Martinez | |
| Marysville | |
| Maywood | |
| McKinleyville | |
| Meadow Vista | |
| Menifee | |
| Menlo Park | |
| Merced | |
| Mill Valley | |
| Millbrae | |
| Milpitas | |
| Mission Viejo | |
| Modesto | |
| Mojave | |
| Monrovia | |
| Montclair | |
| Montebello | |
| Monterey | |
| Monterey Park | |
| Moorpark | |
| Moraga | |
| Moreno Valley | |
| Morgan Hill | |
| Morro Bay | |
| Mount Shasta | |
| Mountain View | |
| Murrieta | |
| Napa | |
| National City | |
| Needles | |
| Nevada City | |
| Newark | |
| Newport Beach | |
| Nipomo | |
| Norco | |
| North Highlands | |
| North San Juan | |
| North Tustin | |
| Norwalk | |
| Novato | |
| Oakdale | |
| Oakhurst | |
| Oakland- Rent | Adjustment Program (RAP) Ordinance (OMC Chapter 8.22) |
| Oakley | |
| Oceanside | |
| Oildale | |
| Ojai | |
| Olivehurst | |
| Ontario | AB 1482 |
| Orange | |
| Orangevale | |
| Orcutt | |
| Orinda | |
| Orland | |
| Oroville | |
| Oxnard | |
| Pacific Grove | |
| Pacifica | |
| Palm Desert | |
| Palm Springs | |
| Palmdale | |
| Palo Alto | |
| Paramount | |
| Pasadena | Tenant Protection Ordinance |
| Paso Robles | |
| Patterson | |
| Perris | |
| Petaluma | |
| Phelan | |
| Pico Rivera | |
| Piedmont | |
| Pine Grove | |
| Pine Mountain Club | |
| Pittsburg | |
| Placentia | |
| Placerville | |
| Pleasant Hill | |
| Pleasanton | |
| Pomona | |
| Porterville | |
| Poway | |
| Prunedale | |
| Quincy | |
| Ramona | |
| Rancho Cordova | |
| Rancho Cucamonga | AB 1482 |
| Rancho Mirage | |
| Rancho Palos Verdes | |
| Rancho San Diego | |
| Rancho Santa Fe | |
| Rancho Santa Margarita | |
| Red Bluff | |
| Redding | |
| Redlands | |
| Redondo Beach | |
| Redwood City | |
| Reedley | |
| Rescue | |
| Rialto | |
| Richmond | |
| Ridgecrest | |
| Ripon | |
| Riverbank | |
| Riverside | AB 1482 |
| Rocklin | |
| Rohnert Park | |
| Rosamond | |
| Rosemead | |
| Rosemont | |
| Roseville | |
| Rowland Heights | |
| Sacramento | Sacramento Tenant Protection and Relief Act |
| Salida | |
| Salinas | |
| San Anselmo | |
| San Bernardino | AB 1482 |
| San Bruno | |
| San Carlos | |
| San Clemente | |
| San Diego | San Diego city RTK (Right to Know Ordinance) |
| San Dimas | |
| San Fernando | |
| San Francisco | Residential Rent Stabilization and Arbitration Ordinance. |
| San Gabriel | |
| San Jacinto | |
| San Jose | Apartment Rent Ordinance |
| San Juan Capistrano | |
| San Leandro | |
| San Luis Obispo | |
| San Marcos | |
| San Marino | |
| San Mateo | |
| San Rafael | |
| San Ramon | |
| Sanger | |
| Santa Ana | AB 1482 |
| Santa Barbara | |
| Santa Clara | |
| Santa Clarita | |
| Santa Cruz | |
| Santa Fe Springs | |
| Santa Maria | |
| Santa Monica | Rent Control Law |
| Santa Paula | |
| Santa Rosa | |
| Santa Ynez | |
| Santee | |
| Saratoga | |
| Sausalito | |
| Scotts Valley | |
| Seal Beach | |
| Seaside | |
| Sebastopol | |
| Selma | |
| Shafter | |
| Shasta Lake | |
| Shingle Springs | |
| Sierra Madre | |
| Signal Hill | |
| Simi Valley | |
| Solana Beach | |
| Soledad | |
| Sonoma | |
| Sonora | |
| South El Monte | |
| South Gate | |
| South Lake Tahoe | |
| South Pasadena | |
| South San Francisco | |
| South Whittier | |
| Spring Valley | |
| Springville | |
| Squaw Valley | |
| St. Helena | |
| Stanford | |
| Stanton | |
| Stevenson Ranch | |
| Stockton | |
| Suisun City | |
| Sunnyvale | |
| Susanville | |
| Taft | |
| Tamalpais-Homestead Valley | |
| Tehachapi | |
| Temecula | |
| Temple City | |
| Thermal | |
| Thousand Oaks | |
| Topanga | |
| Torrance- | |
| Tracy | |
| Truckee | |
| Tulare | |
| Turlock | |
| Tustin | |
| Twentynine Palms | |
| Ukiah | |
| Union City | |
| Upland | |
| Vacaville | |
| Valle Vista | |
| Vallejo | |
| Valley Center | |
| Ventura | |
| Victorville | |
| Villa Park | |
| Vineyard | |
| Visalia | |
| Vista | |
| Walnut | |
| Walnut Creek | |
| Wasco | |
| Watsonville | |
| Weaverville | |
| West Carson | |
| West Covina | |
| West Hollywood | |
| West Point | |
| West Sacramento | |
| Westlake Village | |
| Westminster | |
| Whittier | |
| Wildomar | |
| Willits | |
| Willowbrook | |
| Willows | |
| Windsor | |
| Woodcrest | |
| Woodland | |
| Yorba Linda | |
| Yosemite Lakes | |
| Yreka | |
| Yuba City | |
| Yucaipa | |
| Yucca Valley | |