SB-91 15 Day Notice Flowchart – Updated
What is a 15 Day Notice to Pay or Quit?
The 15 day notice to pay or quit in California was introduced by AB 3088. It is a "temporary" extension of the classic 3 day notice to pay or quit where the tenant now has 15 days to either pay their rent due or give up possession of the rental unit. Note: The 15 days do not include weekends or holidays.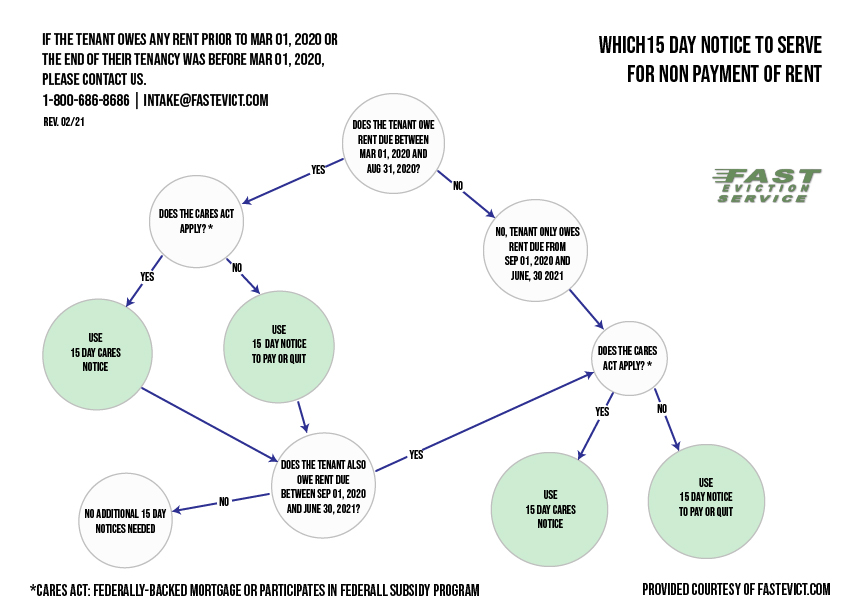 The notice has been updated to accommodate the extension of tenant protections in the way of SB 91 which now extend through the end June 30, 2021.
The 15 Day notice to vacate in California is one of many the many requirements landlords need to comply with to avoid hefty fines while trying to evict a tenant during a state wide declared emergency. We have provided a flow chart to help guide you on which 15 day notice you may need to use depending on the dates the rents your tenant owes.
Do you need to serve your tenant a 3 or 15 day notice? We can serve your tenants the same day! Call us at 1-800-686-8686
Important Reminders About SB-91
Landlords are required to inform all tenants about the State Rental Assistance Program who as of February 1st, 2021 have any outstanding rent payments due after March 1st, 2020 ON or BEFORE February 28th, 2021.
If your tenant has any rental debt prior to March 1st, 2020, please contact us at 1-800-686-8686
If you have any questions regarding your particular situation, please contact us.