Reconsidering Your No Rental Pet Policy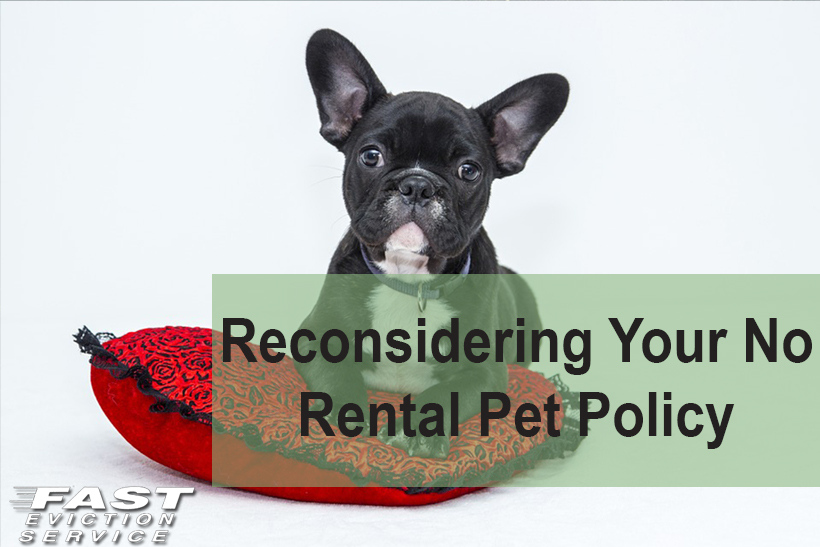 If you are a beginner in the landlord world, you may have already had many colleagues and peers warn you to stay clear of having a pro pet rental policy. Having a pet friendly lease can often times lead to extreme property damage, more expensive turn around, and a lot of liability. Dogs can sometimes be a nuisance by barking all the time which directly conflicts with your other tenant's "Right to Quiet Enjoyment" which is at the heart of the rental agreement and is what they pay you rent for which must be respected. Dogs can also damage yards and common areas with excrement, and can even frighten or bite someone.
Well, we all know all the negatives involved with allowing pets to live with your tenants, especially dogs. Let's talk about reconsidering what you already know and focus on some positive aspects of allowing dogs to stay on your properties.
Things to consider with pet rental agreements
For starters, there are some landlords who actually prefer to rent to dog owners. Why is this? Well, for the most part, dog owners tend to be a more responsible class of people. After all, they are making a conscious choice to take care of a little innocent creature. Another thing to note is that a lot of dog owners don't mind paying an extra Pet Deposit, especially when they're confident that their dog is well mannered. If you're still not convinced, here are some extra measures you can take to screen that little chihuahua your tenant can't live without:
Ask the applicant to provide you with two or three reference letters from previous landlords or previous neighbors explaining what a nice well-behaved dog they have (ie Reference letters for your dog).
Ask your applicant to show you obedience school certificates, proof of neutering or spaying and the dogs' vaccination and licensing records.
If you're comfortable being around dogs, you can have the applicant bring it by the premises to see how well-mannered the dog is.
Ask the applicant if he or she is willing to double down on the deposit. Keep in mind that in some states like California, the legal limit of a security deposit is two times the monthly rent. Besides the double deposit, you can also have the applicant agree to providing steam cleaning services after he/she moves out.
The Lease
If you're at this point thinking: Well, maybe if I take some extra measures it shouldn't be that bad accepting small pets, or maybe one specific dog. Good for you! You're well on your way to opening up to a huge market of renters who love their pets just as much as you love your kids. The great thing about this is that you can edit the lease on an individual basis, or general; it's totally up to you. For example:
"Tenant is permitted to have one (1) dog, a light brown Chihuahua named Sparky on the property."
"Tenant is permitted to have one (1) dog which weighs less than 40 lbs on the property."
"Tenant agrees to cleaning up after his/her dog in common areas."
Tenant agrees to keep his/her dog indoors between the hours of 10pm and 6am."
You get the general idea. There are many clauses you can append to the original lease regarding dogs in general or in a very individual basis.
Information to keep in mind
There are a couple of other things worth mentioning regarding pet rental agreements that you should keep in mind. One for example is the fact that there are several states that prohibit the landlord from refusing to rent to elderly or disabled tenants that have a dog. These states include the state of Arizona, District of Columbia, Minnesota and New Jersey.
Another special legislation to keep in mind is that in California Law regarding pet rental agreements in mobile home parks cannot prohibit tenants to keep pets, nor can they charge an additional fee unless the landlord provides special facilities or services for pets.
Pet ownership and pet rental agreements has been a rising trend for the past 10 years. A lot of people just prefer the companionship of a small dog to having a baby and it's time landlords caught up and opened up their doors and lease policies to these little creatures. What experiences have you had with an open pet rental policy? We would love to know!
At Fast Eviction Service, help on any of the issues discussed in this article is simply a click or phone call away. Email intake@fastevict.com or call our office at (800) 686-8686 to discuss your questions for a free evaluation of your case.
What Can You Do If Your Property Has Been Damaged By Your Tenant
A landlord is faced by a constant worry when renting out their property, and that is due to property damage by the tenant. Although, the security deposit you take when renting out the property may be enough to cover the damage, it is important to know the recourse after damage, and how to make repairs. What can you do if a tenant has damaged your property? Read More...
California Security Deposit Laws: What Landlords Must Know
What is security deposit? It is a sum typically in the form of cash. This sum is paid by the tenant to the landlord before moving in to the rental property whether it's a lease or a rental agreement. The amount of the security deposit is determined according to the monthly rent. That is, the total amount of one or more month's rent is kept as a security deposit by the landlord. Read More...