Michael C Earl Introduction Letter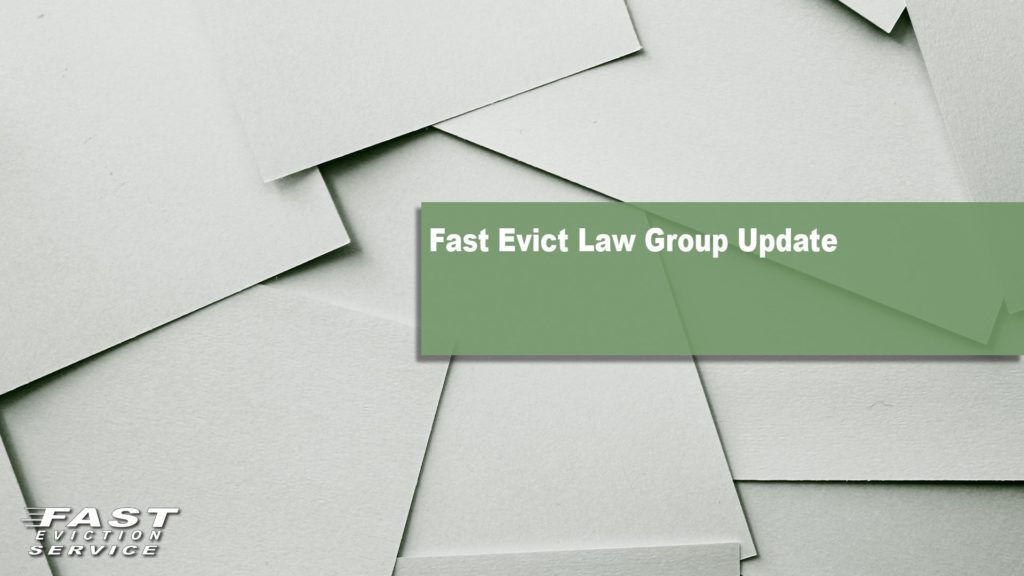 Dear Client:
The managers and staff of Fast Eviction Service Law Group would like to announce to our clients that our main associate counsel of record will be transitioning from H.G. Long to Fast Evict.com Law Group and M. C. Earle as the new lead attorney. You can expect the same excellent and efficient service you have come to expect from the staff of Fast Eviction Service in the handling of your eviction cases.
Michael C. Earle, the lead attorney at Fast Evict Law Group, has over 25 years of experience in landlord tenant matters, general civil and criminal litigation. He is available for consultation on any of your cases and to answer any of your questions upon appointment. Please remember that our staff is trained for the purpose of processing, answering, and handling routine questions that are presented with each lawsuit or case for which our office is retained and the same expedient process will continue with M. C. Earle and Associate Counsel. Each member of our staff have a different set of skills when blended together creates an unbeatable team.
The reason for this transition was that it has recently been brought to our attention by past and current clients, associate appearance attorneys, and head senior attorney Mr. Bouzane, that Attorney Long did not have the best interest of our clients regarding spending their litigation money or depleting the fee whenever necessary, often vigorously demanding higher fees than the average landlord could afford, assuming that every landlord had money just because they owned property. Mr. Bouzane saw first-hand how rude, disrespectful and dissuasive she was in court when it came to communicating with the clients after they spent excessive fees on their case.
Fast Eviction Service made the decision to sever our relationship with Attorney Long due to the recent chain of events and facts we were informed of. The firm, with which Attorney Long is now re-associated with, is well suited to her being that their reviews reflect the same attitude that Attorney Long displayed in demanding excessive fees for her own benefit and not the clients best of interest. Here is an example of the reviews:
"My case was set to go to trial. 5 days before trial I was notified that it was a jury trial and the charge was going to increase. The charge was ridiculous so I had to change attorney's last minute. It was my trial date and once I showed up to court, we were notified that it WAS NOT a jury trial. ****** ***ck misinformed me and was trying to charge me excessive fees. It is already frustrating dealing with an uncooperative tenant. It is unfortunate that ****** ***ck was not careful and did not provide the correct information. If you engage with him, make sure to double check with the courts to see that you are obtaining the correct information."
"Extremely rude receptionists, they talk to you as if you're nobody. And the associates with whoever I talked to (the main attorney) were also very rude and arrogant; they act and tell you that you're wasting their time (probably because they thought you are not a rich potential client). So unprofessional, unethical and rude!!!"
At this point, you can continue to expect to see many of the same team of lawyers that you are familiar with appear on and handle your cases just like clock-work. A few new Attorneys were also hired due to their court experience and ability to present the landlord's case in the most efficient way possible. We will also continue our strong representation in any matter dealing with B A S T A, Eviction Defense Network, Inner City Law, Public Counsel, etc.
You know from past experience that your eviction matter was in good hands when you hired Fast Eviction Service Law Group. We will continue to provide you with the fastest and most economical service possible.
Please do not hesitate to contact our office to make an appointment or if you have any questions regarding this transition. We would also like to thank you for your continued patronage and extend our best wishes for a happy and successful 2020.
Always remember that we are here to assist you in all of your legal needs.
– The Staff and counsel of Fast Eviction Service/Fast Evict Law Group
Offer pursuant to this announcement: $100 off litigation fees on your next eviction!!! (offer valid on any contested fees on your next eviction only valid on one case please mention this if your next case is contested)
AB 1482 RENT CAPS – When is the last time you raised the rent? Was it prior to or after March 1, 2019? Please remember if your property is not exempt from AB 1482 you must be within the median increase of 5% plus the regional percentage change in the cost of living (CPI, or 10%, whichever is lower. Please contact our office today to make sure you are in compliance with the rent cap per AB 1482!!