How to Deal with Common Tenants Complaints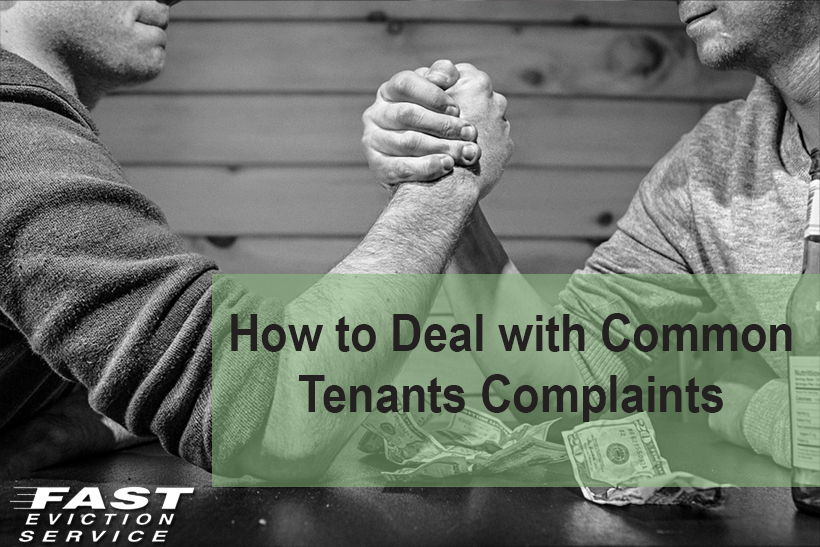 If you have rented out your property, dealing with tenant complaints is a mandatory occurrence. No property can always remain in perfect working condition and there will certainly be issues that might need your attention. In case of a problem, the tenants would not have any other option than to complain to the landlord and it will be the responsibility of the property owner to resolve it within due time. In most situations the complaints don't cause any conflict between the tenant and landlord but quite possibly this can be the case. In order to avoid a conflict and to successfully resolve complaints there are certain steps that a landlord must remember.
It is worth noting that every situation is unique and the method of dealing with it also depends upon the current circumstances. Furthermore, people have varying personalities and it is difficult to gauge the reaction of a person in a conflict situation. We would like to advise all landlords that it is a wise idea to never put yourself in an unsafe situation. Try to resolve complaints without creating trouble for the tenant and if at any time you find out that your safety has been jeopardized, seek legal help.
Tenants can complain about anything and everything and there is a certain manner landlords are required to respond to the issue. Let's check out the five steps to deal with common tenant complaints without any conflict.
Listening to the Complaint
One of the best ways to deal with a complaint is to firstly listen to it. Give your tenant the signal that you are interested in understanding the issue and concerned about the issue as well. Listen to what the tenant wants to tell you. Be respectful towards the tenant and give importance to the issue at hand. Even if it is a minor flaw like water leakage or a major one such as termite and mice, never consider it an issue less unworthy of your attention. Also try to calm the tenant down because that's the only way to be receptive to the issue.
For instance, many times landlords are aware of all the probable issues that might affect living conditions of the tenants as it is their property the tenants are residing in. When the tenant calls the landlord to complain about the issue, the landlord brushes it off as nothing important because they are already aware of it. If there is a small roof leak that happens in the kitchen in rainy season and you know about it, don't think it isn't an important issue as it happens every year. Instead try to figure out the root cause of the issue and tell the tenant that it will be fixed.
Try to make the tenant feel as if you want to know more about the issue; keep asking questions such as the strength of water flow and exact area where it occurs. Also, confirm it to the tenant that you will be fixing the issue immediately. Listening to the tenant's complaint always works wonderfully in the favor of landlord simply because tenant feels that his complaint will be given importance. Another key point to remember is to ask follow up questions too just to be aware about whatever is going on.
Handle the Issue Calmly
Landlords must remain calm, understanding and professional. This approach would eventually help in resolving the issue successfully and also will positively impact the tenant. Take your time in adjusting the way you will respond to the situation according to the complaint otherwise the chances of successful dealing with the issue will weaken.
Availability is the key
For tenants to inform you about their complaints, it is important that you should be available to listen to the issue in the first place. If your tenants feel that you are unreachable and never available then naturally they will become frustrated. However, it doesn't mean that you should remain available 24/7 or even in the wee hours of the morning because that's impractical and unnecessary to listen to tenant complaints.
While signing the lease agreement you have got to include terms about your availability and tenants will be legally bonded to follow the schedule as described in the agreement. Let's say you decide about the days of the week on which tenants can contact you for any complaints or business hours during which you can receive their calls then tenants must follow it. When they do call or contact you then you must listen to them and respond professionally. Don't forget to include terms about emergency situations and how to contact you required along with what will constitute an emergency. Take guess work out of the picture and decide about every possible situation beforehand.
Timely addressing of problem
Just like listening is important, in the same manner responding quickly is imperative. However, your response time would depend upon the severity of the problem since there are some issues that require immediate attention such as fire or burst pipe at the rental unit while some may not be as severe like a broken kitchen cabinet. So, evaluate the severity of the issue and give your tenant a definite but reasonable time frame in which you will be able to fully resolve the issue.
Be Professional
Conduct yourself professionally; if the tenant is yelling at you, never shout back at him/her and never ever curse because it is your business and your tenants are helping you in attaining financial stability. Also, being professional involves that you consider every single problem important because your tenant is finding it difficult to deal with it. For instance, if there is an issue with the hot water system and you don't resolve it by reliable methods just to save some bucks then chances are the problem will re-emerge, which would lead to bigger trouble and probably a conflict. On the other hand, if you seek help from reliable professionals and get the system fixed or replaced through best possible plumbers then your tenant will be happy and you will enjoy full peace of mind.
One of the most effective simple statements you can easily make when listening to tenant complaints is "I understand." We all want to be heard and understood. Be a strong listener and demonstrate authentic empathy listening closely to your tenant's complaints and you will usually head off much bigger more difficult problems further down the road.