What to Consider When Hiring a Property Management Company
Updated 9/27/20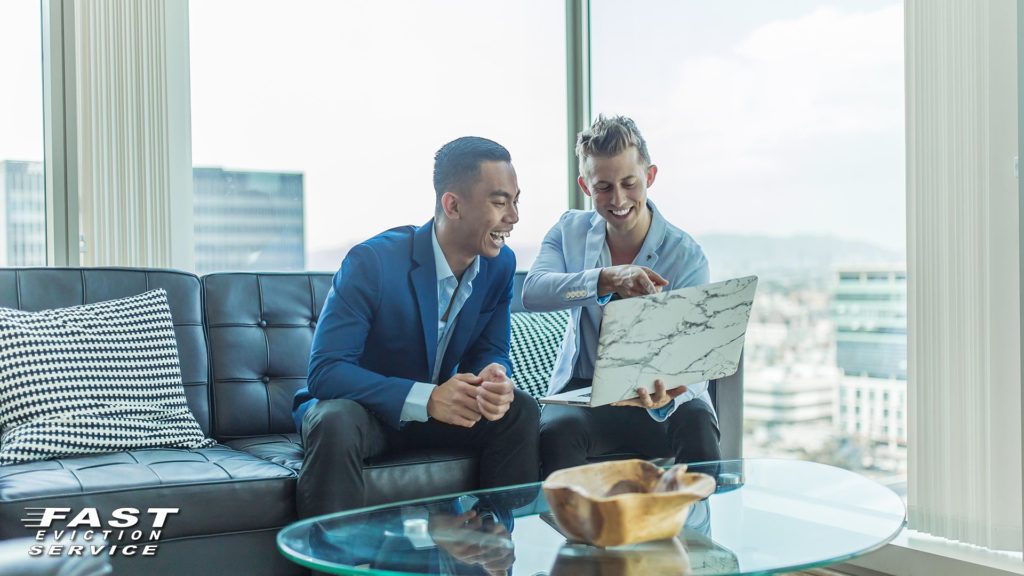 There are a number of benefits of hiring a property management company. Among those benefits, there is recovering some of your time, having to deal with day to day operations, managing tenants, worrying about vacancy rates and attending to maintenance requests.
Hiring a property management company also saves you the hassle of rent collection, which on its own can be a good enough reason to consider it. While all of these benefits sounds good enough to Google "property management companies near me," you should take some time to consider a few points we want to make before hiring one.
What does a property management company do?
One of the top reasons why landlords opt for hiring a property management company is to put an end to frequent delinquent tenants. They usually come with an entire set of amazing services for landlords such as.
Marketing your rental properties
Screening tenants
Properly managing security deposits
Move in and move out policies
Lease signing
Dealing with maintenance requests
Eviction process help
Let's talk about some benefits of allowing a company to manage your investments before we get into other points you should consider.
Hiring a property management company benefits
There is no doubt that hiring the right company to manage your rental property has a ton of benefits. We went through a few benefits at the very beginning of this article and now I'll share a few more.
According to a recent All Property Management survey, the average vacancy rate for professionally managed properties hovers at around 4.5%. If we compare this to the US Census Bureau stats where the national average rental vacancy rate hovers at around 9%, you can see that you can cut your vacancy rates by half!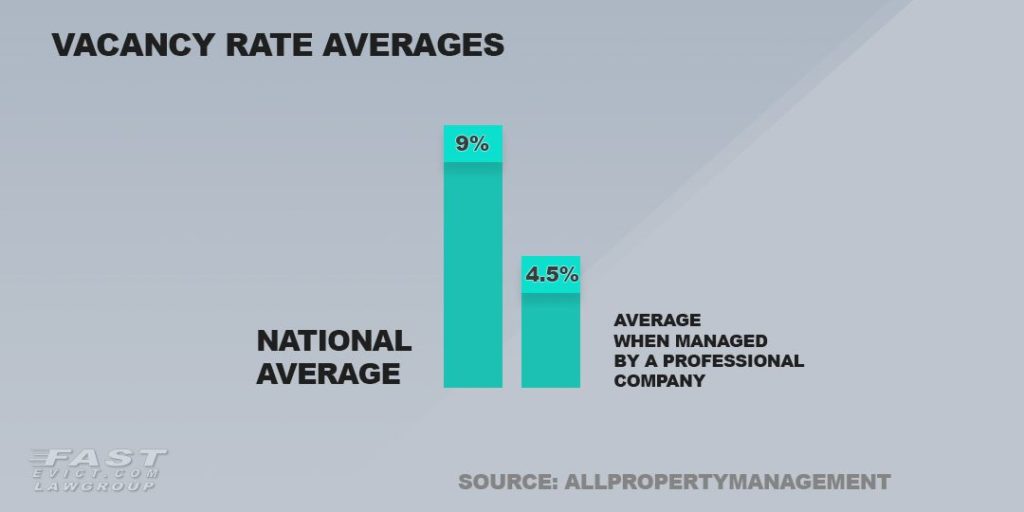 Greatly reduce the length of empty rentals
One thing a good property management company can do for you is dramatically improve the time your empty unit is on the market. Most managers have proven ways to market your property. They should have a good amount of experience to know what type of copy converts, where to place ads and have access to real estate tools to give you the best turnaround rates.
Part of reducing lengthy vacancies is being able to turn your properties around efficiently. This means implementing speed, quality and price. Professional property management companies will have a vast network of trusted vendors for everything your property will need.
They can also make quick work of screening tenants to fill in your vacant unit too. If the rental property company you are considering has been around long enough, they know how to thoroughly screen a tenant quickly.
Reduce operating costs
There are lots of operating costs involved with managing rental property. I've already gone through a few, such as maintenance, unit turnaround, etc. Hiring a property management company can greatly reduce these costs because you're usually not the only property they manage. What this means is that they can negotiate better prices from maintenance personnel and other service vendors due to the volume of work they need.
This eventually translates to savings passed on to you, both financial and emotional.
Longer tenancies
When dealing with professional property management companies, they all have tenant retention policies. They are little things they do to help keep your tenants happy and in your rental units for longer periods of time, which benefits them too. High turnover rates can be expensive so this point can be extra beneficial for landlords.
Efficient rent Collection
Hiring a property management company will streamline your rent collection process. Why? Most tenants know there is very little wiggle room when there is a company managing your property. Management companies will make sure late fees are always enforced. Sooner or later undisciplined tenants will get on track to avoid paying extra fees.
Speak of undisciplined tenants, hiring a property management company usually means they have a preferred way of accepting digital payments. These services usually have automatic payment systems, reminders and more tools that will make getting paid a breeze.
Reduce legal liability
A good management firm invests in training their agents landlord/tenant law. They constantly update themselves in local and federal law which includes following fair housing regulations. These types of legal issues can set back inexperienced landlords thousands of dollars in lawsuits. These are the areas where management companies can help you avoid legal issues:
The tenant screening process
Digital and printed ad copywriting
Proper upkeep of your property
Properly deal with the eviction process
Keeping your rental units in habitable conditions
Proper dispositions of security deposits
Personal benefits for landlords when hiring a property management company
When you find a good property management company to hire, you'd be able to enjoy a number of personal benefits. The one that stands out the most is the immediate relief of stress. Instead of having to deal with a number of different individuals (depending on the number of tenants you have), you'd only have to deal with one.
You would also have a lot more free time on your hands. What are you going to do with it? Travel? Golf? Embark on a new business venture? The possibilities are endless.
Points to consider before hiring a property management company
The first point to consider is whether or not you can afford it. When shopping around, make sure you understand how their fees stack up against others. Find a company that fits your budgets and needs. Let's go through some important points to consider.
Understand how their fees work
Contract verbiage is very important. Do they charge a flat monthly fee? Do they take a percentage of the rent? How they word their fees is something to really pay attention to. There is a big difference if they charge 10% of the rental's market value vs 10% of rent the tenant pays. As you can imagine, finding a company that would work off of rent collected would be highly motivated to collect your rent.
Vacancies
Does the property management company charge you for vacant units? Some do. They usually do it to cover advertisement costs or agent commissions.
Maintenance issues
Would they charge you to use their maintenance crew? Some companies have in house personnel in which it would be highly possible that they would charge you to use their crew.
Eviction process
How do they handle the eviction process? Do they take care of it all then foot you the bill? Is it included in their monthly fees? This is something that needs to be addressed before signing contracts because evictions do happen eventually.
How "involved" do you want them to be?
Another point to consider is how involved do you want the company to be? Are they lenient enough to where they would let you control certain aspects of your property? Or is it an all or nothing type of deal?
There are some landlords who don't want to deal with collecting rent and screening, for example. A flexible property management company can work out here since they can take of those two items while the landlord continues to work out maintenance and eviction issues.
Closing thoughts
At the end of the day, hiring a property management company is forming a new partnership. Above numbers, fees and negotiations, you should hire a company you trust. Someone who has good reviews on Yelp or Google My Business. Just like purchasing rental property, this decision is an investment that needs to be taken seriously.
Going cheap will eventually cost you a lot of money. Sometimes paying a little more pays off in the long run. The difference between an average, good and great property management company can be drastic. A Great company will enhance the value of your property over time, help keep tenants longer and put very high quality tenants in your rentals.
Important questions to ask before hiring a property management company
For a very thorough and in-depth list of questions to ask a property management company before hiring them, you can read this article. -> Read now.