Finding Good Contractors & Handymen: A Landlord's Guide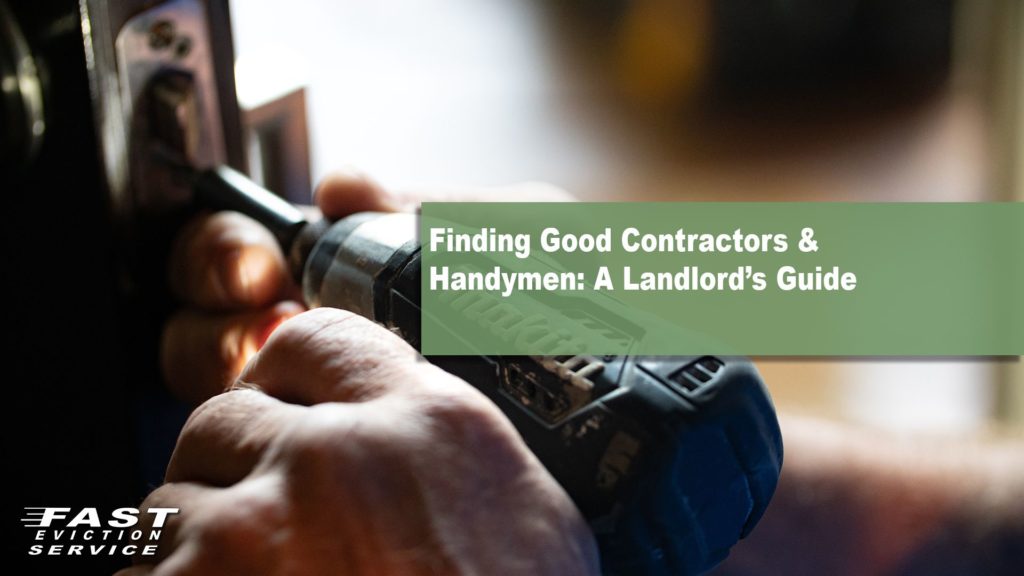 One of the most crucial and difficult jobs every landlord faces is finding good contractors – and for smaller jobs under $500 for labor, good handymen.
Anyone who has been a landlord for any amount of time has had the experience of contacting six contractors out of the phone book or off the internet, getting a call back from four of them, setting up appointments to come make an estimate on the job and have half of them never show up. Then not having full confidence in the ones that actually do show up.
Finding and hiring the best contractors can be a very labor-intensive process which is why it's important to have both a clear sense of what you are looking for as well as your own understanding of what you can afford. It also involves understanding the difference between price and actual cost, and that the lowest price isn't often the best deal.
Part of the process is managing your own expectations and maybe being prepared to pay more than you may have originally thought you would have to get a balance between quality and price.
Take for example exterior house painting. House painting often seems deceptively simple to people who haven't painted much or looked closely at how a paintjob holds up over the average seven-year-old life span of a paint job.
Sure, you can hire a kid right out of college who presents himself as capable. But expect to pay for his learning curve learning to control drips splatters and spills that can be extremely expensive! There are very few house maintenance jobs that can do as much damage as quickly as someone with a bucket of paint on a ladder who is tired at the end of a day!
How long an exterior paint job lasts is directly proportional to how well the surfaces being painted where thoroughly cleaned before painting, with the problem if they weren't prepped properly often taking a couple years to show. This is one of the most common areas someone without much experience cuts corners and is long gone when the paint begins to peel prematurely – which can take years of scraping and repainting to repair simply because the job wasn't done right and there will never be good adhesion with any paint applied over it.
Chimpanzees have actually been trained to roll walls, but the reason you don't want to hire a chimpanzee painting crew is they don't keep the paint where it's supposed to go! If you pay peanuts, expect to get monkeys!
Your rental property is probably your most important investment and finding a balance between quality and cost is one of the most crucial success factors for any landlord. What are the most effective ways a landlord can find good contractors?
Search Online
People searching online for contractors and handymen is the most common way people find help today. This search usually begins by doing a simple Google search for that particular type of service in your city.
A Google search for contractors in your area has two types of search results. The Google Local search results marked with an A, B or C with the map shows their location, and the organic search results of website listings below that.
Click the Local Google search results and you will see contact information, a link to their website and most importantly Google reviews. These reviews can be helpful, but are not always as unbiased as we would hope when people have an axe to grind or are sometimes planted by the competition.
Below the Google local search results with the map are the organic search results which often have Yelp near the top. Yelp receives around 28-31 million visitors from search traffic monthly for all types of businesses and is another good source of published reviews
Several other sites that help landlords and property owners find good contractors are Angie's List which is specifically focused on contractors and also publishes reviews and gets about 4-5 million visitors monthly.
Home Advisor is still another site that lists contractors and handyman services for home improvement and property maintenance.
Craigslist lists contractors in your area under "Services – Skilled Trade".
Fact is, finding contractors with all these online services isn't the problem. Finding good ones is the challenge!
Ask Others If They Can Recommend Good Contractors
The best contractors are busy and in high demand because they usually already have as much work as they can handle without having to advertise for more. The best contractors are often found by word of mouth, by asking people you know or meet related to your work if they know any contractors they would recommend.
People want to recommend the best people, because it makes them look good with that contractor that they want to feel great about working with them! Ask people working in the trades who they like working with, or more specifically who they like to "follow" on the job.
Ask at your local hardware or building supply centers who usually can supply cards of contractors they recommend.
Be Proactive
Understand and appreciate how much of your rental business's success depends upon who you have to help you as your support team when problems occur. Finding the best contractors means being proactive asking people in the trades and working on a continuously evolving list of potential contractors or handymen even when you don't need them so you have a good selection to choose from when you do.
Make Contact
Give them a call to start the screening process. If they were recommended by another it's easy to start the conversation with that reference and say you'd like to know about their services.
You can ask some basic questions like;
How long have you been doing this type of work?
How would you describe your specialties?
What do you consider are your strongest or most competitive abilities?
How far out are you usually booked?
Remember the best people are usually busy and you often need to stand in line to get their attention. This is also why its important to have a continuously evolving list of people you can go to for help when one may not be available.
Always Ask for References
Be sure to ask any prospective contractor or handyman for references. Try to get three. This shows you the type of projects they handle best.
The references will tend to be truthful and can provide you with valuable information regarding on the job performance that's almost impossible to get any other way. Some questions you can ask are;
Did the contractor show up on time and do what they said they were going to do in a timely manner?
How well do you think they judged the job? Were there add-on costs?
Were they easy to work with?
Would you use this contractor or handyman again?
Finding Good Contractors Doesn't Mean Finding the Cheapest Contractors
Once you've arrived at a range of contacts to chose from, never forget the difference between price and cost. Probably fair to say, most people make the mistake when selecting a contractor of tending to go for the lowest price. But the actual cost of the project is how well it holds up over time.
Using again the example of hiring the kid out of college to do exterior house painting, the true cost of the paint job is how well it holds up over time. An exterior paint job should last between five and ten years, which means the job actually costs much more if only lasts five years and needs to be repainted in half the time of a quality paint job that lasts ten years.
The kid right out of college may not yet of even seen how his work looks after five or ten years! You need to therefore fully expect that you will be paying for their learning curve in that time – which isn't cheap! Applying paint onto surfaces that haven't been properly cleaned and prepped can result in years of having to rescrape and remove the layer of paint that's peeling or anything painted on top of it that will also peel.
While the kid out of college may have offered you the lowest price, house painting is actually more complicated to do correctly and have a paint job that lasts than most people realize. This makes the true cost of the paint job done by a relatively inexperienced painter much higher than a more expensive but experienced painting contractor.
If you only focus on price, you will usually end up with the low-end contractors. Remember, contracting is primarily a service. You need to focus on the quality of service they provide and find the best priced contractor within that level.
No decision is more crucial to the success of your rental business than finding and keeping good contractors and handymen to be on your support team when problems on the property occur. Making the effort to be proactive and constantly asking people if they can recommend any good contractors can mean the difference between your investment being successful – or a living hell if you hire the wrong person!