Bad Tenants – Warning Signs to Consider
Updated 8/25/20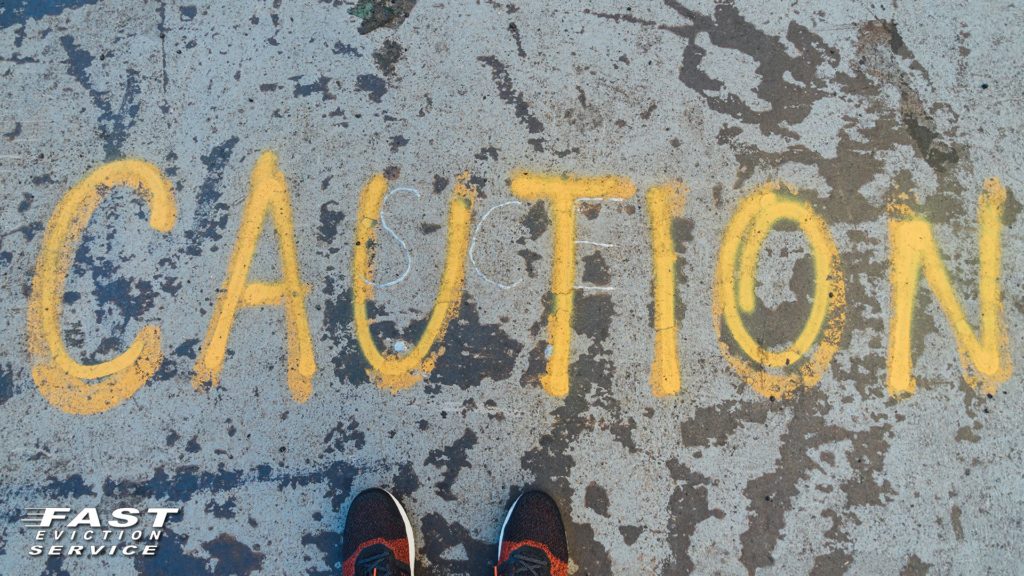 Bad tenants can take the excitement out of being a landlord and owning rental property. The best case scenario for any landlord would be to never have a bad tenant, ever. If it only it were that easy. The truth is that you will eventually run into a bad tenant sooner or later in your journey. We will go over a few warning signs you should consider to try and avoid opening your doors to bad tenants and what you could do if one slips through the cracks.
Identify and avoid renting bad tenants
Any and all prospective tenants should be thoroughly screened before a rental agreement is offered. To many of you, this is common sense. You can't imagine the times I've seen a landlord have a bad screening process or skip it altogether. Some just "trust their gut" and often end up on the short end of a lengthy and costly eviction proceeding.
To help you from having to learn how to deal with bad tenants, here are some key steps to implement in your tenant screening process.
Rental application
The rental application may seem like boiler plate procedure for renting property, but in reality it could serve as one of the first lines of defense against bad tenants. You can easily avoid funny business if you follow these tips.
Always conduct an interview at the first showing and never let the prospect take home the application to fill it out later. This just gives them time to make stuff up.
After the first interview and application in hand, make sure you run a background check! Check for credit score, rental history, judgment liens against them (this is a sign of an eviction) and verify employment.

Always, always Google employment contact information to verify what the prospect provides on the application. If the contact info doesn't match, how do you know you're not calling a family member willing to lie?

Ask for previous landlord references. You can take things a bit further by actually visiting the prospect's previous residence before calling the landlord for a reference. A simple observation, such as "what color is your building" or another unique trait you noticed can weed out fake contact information.
Bouncing around
A good way of identifying a possible bad tenant is to check their rental and employment history. Ask about important gaps in either of them. Why were they unemployed for 8 months and how did they pay their rent and afford to live?
If they have 8 different jobs within the past 2 years with very little rental history, chances are this prospect may bail out on you mid lease. Be weary!
If a tenant hesitates to provide you with a rental application on the spot, that is also a warning sign of a bad tenant you should consider.
Avoid Pushy Tenants
Can I move in tomorrow?
A common warning sign to watch out for is a "pushy" tenant. If you notice the tenant is in a hurry to rent, such as asking how soon they can move in, asking you to sign an agreement right there and then etc., chances are they are trying to either hide something or run away from something! You can avoid potentially renting to a bad tenant by saying you have a 1 week screening process policy.
I'll pay you three month's rent up front!
This may seem so tempting! If you are ever in this situation, you need to take a step back and ask yourself "what are they trying to hide?" Often times, these nice tenants turn into bad tenants real quick on the fourth month. It often leads to expensive evictions ending up costing you up to 6 months' rent.
Always stick to your thorough screening process to avoid bad tenants!
The more the scary-er?
Another warning sign to consider when choosing your next tenant is playing close attention at how many people come to view your property. In this case, the more the merrier is not the expression you're looking for. If you find yourself explaining the amenities of your rental home to 8 people while they try to tell you only 4 will be on the lease, this can possibly become a bad tenant situation.
Whether they will have additional people living in your rental property not listed on the lease or constantly have big gatherings and high volume traffic of people, this can become a nuisance for you and neighboring tenants.
This may not always be the case, but it is possible. After wall, the purpose of this article is to let you know about the possible warning signs to consider so that you can avoid renting to bad tenants.
Weed bad tenants from the very beginning
I always say that the best way to prevent an eviction is by not attracting someone you would have to evict in the future. Easier said than done, right?
Once you've gotten your place ready to rent, the next step is to put a for rent sign on the window or front lawn of your property and publishing ads on your favorite online platforms. Before you do, here are some tips to consider while writing your copy:
Make it very clear that you will thoroughly screen all applicants and that every adult over 18 must fill out an application and sign the lease. Good tenants have nothing to hide!
You can state your requirements right on your ad. Some of your requirements may be: minimum 2 years at current job, income requirements, occupancy limits, credit requirements etc.
Once you start getting phone calls, you can start weeding out further applicants through phone interviews. Please be aware of all local, state and federal discrimination laws while you are going through this process.
What to do when good tenants become bad tenants
Even if you are an experienced landlord with a solid screening process, it is possible to let one slip through the cracks. What now?
Many landlords prefer month to month leases nowadays which make these types of situations much easier. Bad tenants usually break their lease in some way or another either by breaking a clause in or constantly not paying rent on time. Simply serve the corresponding notices to start the eviction process and you can (hopefully) get rid of them quickly and easily.
Overall, having solid and open lines of communication with your tenants (good and bad) can be beneficial. Sometimes, bad tenants just want to be heard or recognized. Constantly working together to avoid awkward situations is way more convenient than having to evict a tenant.
If you've done this long enough, you'll find that spotting potential bad tenants will become second nature. Until then, take notes on what you've done right and wrong during future screening processes and learn from your mistakes.