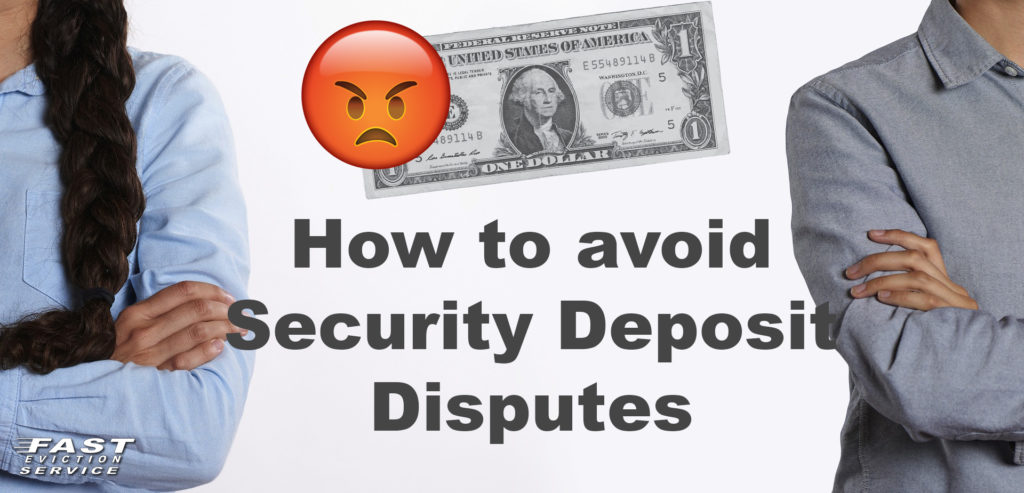 Security deposit disputes are second to only late rent disputes when it comes to landlord/tenant problems and I think most of the problem lies in the fact that each party has their own idea of how a security deposit should be handled. I'm sure you can imagine how polar opposites these two ideas are but believe it or not there are very standardized guidelines in the industry that if followed, avoiding security deposit disputes will be inevitable.
Before we go on, let me remind you that each state has their own laws regarding the amount of security deposit you can hold. Everything you need to know about California Security Deposits laws can be found here. These types of disputes can often be settled by having reasonable conversations but can also turn into ugly small claims and court appearances. To make sure this doesn't happen to you, there are a few things to possibly avoid security deposit disputes with your tenant.
Put very specific security deposit language in your lease
Drafting a solid lease is not only a good idea but one of the greatest business decisions you will ever take. Sometimes this even means hiring a lawyer to really get in the nooks and crannies of things and to possibly avoid security deposit disputes. Things to keep in mind when you are drafting up your clause about the security deposit in California are:
Dollar amount of the security deposit
What your definition of "normal wear and tear" is
How and when it is to be returned to the tenant
What warrants use of the tenants' security deposit
How disputes can be handled without the need of legal action
Frequently inspect your rental unit
This too should be a very important thing to mention when signing copies of the lease. Besides writing it into your lease, be sure you take this serious and inspect your rental unit at least two times a year and handle any maintenance issues your tenant may have. Your tenant will constantly have these routine inspections in the back of their minds and will naturally want to care for the rental unit since "most" good tenants will also want to avoid disputes.
You don't have to say these inspections are necessary to "make sure you don't damage my property" but sell it like you care about the maintenance of the rental unit to keep it at optimal conditions. This will also come in very handy for when you want to increase your rent!
Follow California security deposit guidelines
You want to always stay within the law to avoid future costly lawsuits. Keep in mind that in California, you are able to hold 2 times the rent amount as security deposit. If you the rental unit is furnished, you are allowed to hold 3 times the amount and if you are renting a commercial property, there is no limit on what you can hold from a security deposit standpoint.
Keep in mind that a tenant has to provide you a 30 day written notice or intent to vacate the rental unit.In California the landlord has 21 days to either return the deposit in full or provide the tenant with:
A written letter explaining why the landlord is keeping part or all of the security deposit.
A detailed list of the deductions.
The remainder, if any, of the security deposit.
Copies of the receipts/invoices for the repairs done to the rental unit unless the repairs are under $126.00 or the tenant has given up his/her rights to receive the receipts.
Additional reasons as to why a landlord may be able to keep a security deposit:
Landlords can also keep part of the security deposit when there was no reasonable effort to return the rental unit "clean" excluding normal wear and tear. The landlord may not deduct more than what it would take to make the rental unit as clean as it was when first rented to the tenant.
The cost of damages caused by the tenant's guests or visitors.
The landlord may keep and use the security deposit to cover any unpaid rent and includes if and when the tenant doesn't give proper 30 day notice prior to moving out.
The landlord may keep deposit to cover any unpaid utility bills such as water, electricity, trash and so forth.
Tenant terminates the lease and the landlord and tenant did not reach an agreement.
Move-in and move-out checklists are a must
If you want to start you and your tenant's relationship off on the right foot, providing a move-in walkthrough inspection of the rental unit with a checklist is the easiest way to do it! It will build a relationship based on trust, transparency and understanding. Make sure you point out anything you have had issues with in the past with that specific rental property such as an area where you have seen above normal wear and tear for carpet wear, dirty wall areas etc.
Make sure you take a lot of pictures with the date stamp function enabled and have your new tenant sign the move-in checklist and express that you are looking forward to his/her cooperation to returning the unit in the same state as it was rented, minus normal wear and tear of course. Give your tenant a copy of the move-in inspection report and also the routine inspections so that the tenant knows you are always on top of your rental units to help keep your business running smoothly.
When it comes time for your tenant to move-out, remind your tenant that a move-out assessment is mandatory prior to him/her receiving any amount of the security deposit. Remind them that you legally have 21 days to return the deposit, and that you are aware of the tenant's rights to know how much, why, and provide proof of any amount retained.
At the end of the day it all boils down to communication, common courtesy and common sense. Focus on starting and keeping your relationship with your tenant on the right foot so you can avoid expensive and nasty conflicts in the future or at the end of their tenancy. Remember to treat others the way you would like to be treated and stay as transparent and honest as possible.
These are some of the most important ways to avoid security deposit disputes in California – one of the most common areas of dispute between landlords and tenants – by knowing the law and acting accordingly.