California Evictions Executive Order Update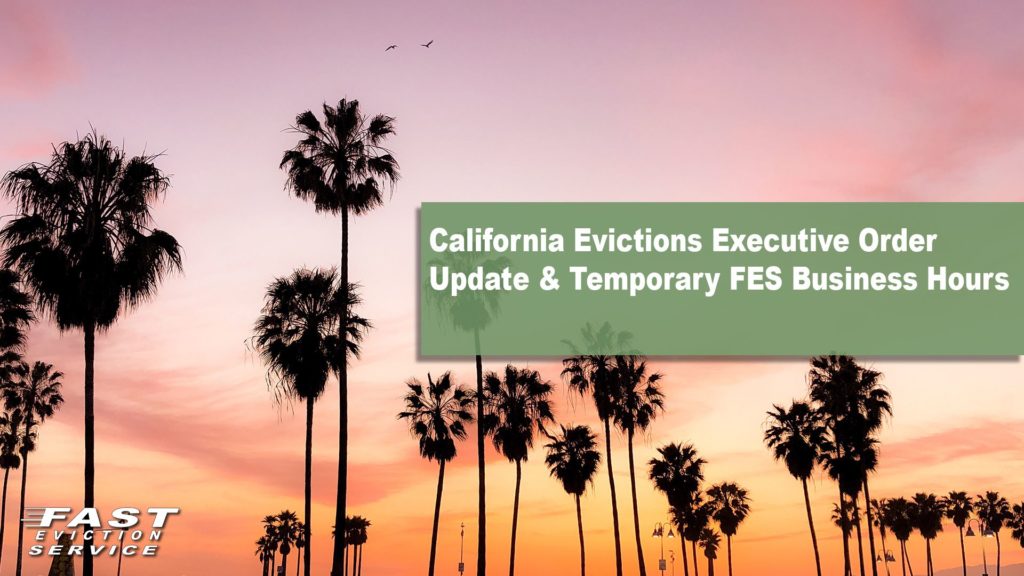 On Monday, March 16, 2020 Governor Gavin Newsome issued an executive order that would give local government authority to put evictions on hold. This executive order would also slow foreclosures against homeowners and protections against utility shutoffs during the COVID-19 emergency.
The order was put in place as COVID-19 affects Californians by experiencing loss of work hours, layoffs and their ability to keep up with rents, mortgages and utility bills.
The restrictions are in place through May 31st, 2020 unless otherwise announced. Something important to mention is that the order does not relieve a tenant from their obligation to pay their rent nor does it restrict the landlord's ability to recover it.
You can read the complete Executive Order here.
Fast Evict.com Temporary Business Hours Schedule
Due to the current pandemic emergency, our phone hours will be temporarily changed from 10 am to 4 pm with limited staff on hand.
If you would like to file a case that does NOT include rent for March, please email us at intake@fastevict.com. Our staff will contact you between our new temporary hours the following business day.
We will email our clients every other night with any updates that we receive from the court or Sheriff Court Services.
Once the pandemic emergency is over, our very first priority is to begin filing paper work with the appellate courts in each county so we can get cases moving again.
In closing, Fast Evict understands the situation landlords are going through. We are landlords as well, and the destructive nature of a nonpaying tenant along with the cost of holding the properties will possibly never be recovered.
Thank you for understanding and thank you again for choosing FastEvict.com