Moving in or out of rental houses and how to not to pay for existing defects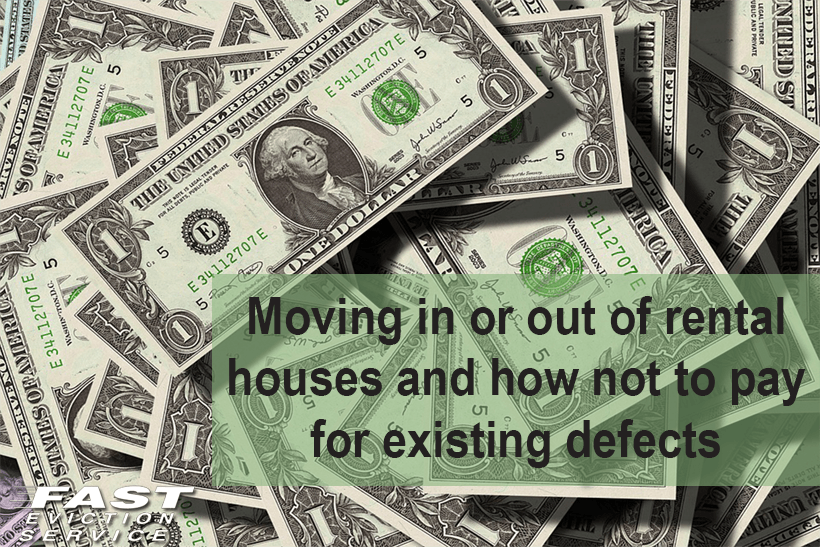 A moment always come when a tenant must relocate to a different house. They could move into a new apartment where rental fee is lower than their current house. Alternatively, people might move out to upgrade their lifestyle or because they have changed their jobs or have received a job transfer. Whatever your reasons for moving in or out of a house are, there is something you should keep at your finger tips.
You should know that some landlords could make you pay for damages you have not caused. If they do not want to bear the cost, they could force you to do it even though you are not responsible. So, to ensure that you are not a victim of this, you should consider checking various house components for damages. This should happen when you first visit the property for viewing. During your first tour, keep your eyes open to spot even the tiniest fault. It could be tiny now but not after you have lived there for a particular period.
Focus on the doors and windows. Be keen to note if there is broken glass or holes. Are the tracks or hinges okay? Find out before you sign the contract. Another consideration to make and enforce in writing concerns curtains and blinds. Some landlords have these in place by the time a new tenant moves in. Talk to the landlord, in case you want to use yours. However, word of mouth is not enough. Be sure to write a letter to the landlord to confirm that he doesn't mind you using your own curtains. If not, you might be forced to buy new ones when your time to move out comes.
Be very watchful when it comes to sinks, bathrooms and other drainage components. They should clean rather than clogged up or broken. All the lavatory appliances must work effectively. Are there infestations of any kind in the house you want to enter? Confirm that this is not the case. Any soot from items like candles or cigarettes smoking should be detected too. If there is a refrigerator, mostly there is, make sure that the vents are free from dirt or dust.
Above all, make sure the fridge is in a proper working condition. The same is the case with the stove or oven. Prior to renting any house, put your health on the front line. You should never enter a house that has extreme molds. If these are present, there must be a drainage issue somewhere. So, you should either ask the landlord to repair the damage or go look for another house. The bottom line is that when leaving a house, you should leave it the way you found it.
This post is filed under: Landlord Tips